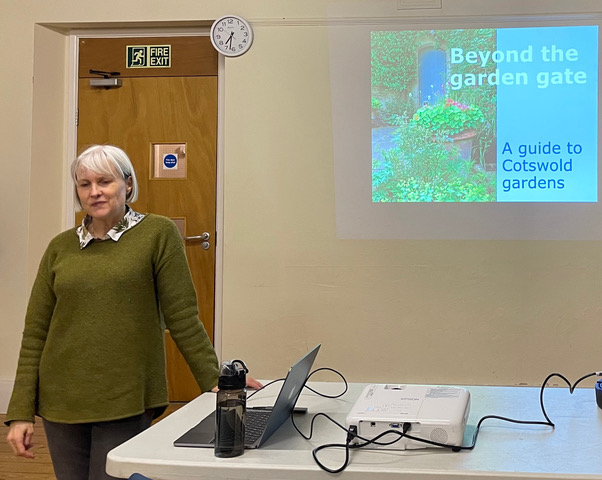 Our March talk, 'Beyond the garden gate', was from Mandy Bradshaw. For 25 years Mandy has been a Cotswold-based gardening journalist and is also know as the 'Chatty Gardener'!
Mandy took us into twelve gardens, some of which are not open to the public.
Highnam Court, Highnam, Gloucester.
Stowell Park, Yanworth near Northleach.
Asthall Manor, near Witney.
Littlefield, Hawling, Cheltenham.
Absolam's Orchard, Chedworth
Showborough House, Twyning, Tewkesbury.
25 Bowling Green Road, Cirencester.
The Walled Garden, Worcester.
Harrells Hardy Plants, Evesham.
The Manor House, Little Compton.
Whatley Manor Hotel, Easton Grey.
Cotswold Wildlife Park, Burford.
Illustrated with magnificent photographs, Mandy told us about the owners, the gardens' history and some of her favourite plants and views.
Afterwards a range of her photo cards were available to buy. More about Mandy can be found at https://thechattygardener.com
We look forward to Mandy's return.